A step-by-step guide to livestreaming on Facebook, Twitch, YouTube, Periscope, and Instagram.
Enrollment for this course is currently closed.


Sign up below to be notified when courses open for enrollment and instantly receive our free guide: 
"26 Things To Do Before You Release a Song or Album"
"Live music won't return until 2022"
- Lollapalooza co-founder
Now don't freak out. Of course there are live shows happening right now. We're seeing drive-in concerts, backyard concerts, driveWAY concerts, and other creative (smaller) shows put on by people innovating in the New Music Business. 
There is no denying, however, that the live music landscape has been altered dramatically. Forever. 
Livestreaming is the present


Livestreaming is the future


Livestreaming is here to stay
There are many independent artists currently making 4 or 5 figures a month livestreaming from home (oftentimes with very few followers)
Followers vs. Fans


Followers want to be entertained for free
Fans support you financially
Which do you want? 
Remember, you are building a career. Don't concern yourself with vanity metrics like followers, streams, views and likes.
The only things you should be concerned with are:
1. Are you making a comfortable living with your music? 
2. Do you have superfans who will support you for life? 
Livestreaming has proven to be a way to get both.
Twitch is the most popular livestreaming platform in the world
There are over 150 million active users on the platform. It started as a place where gamers livestreamed themselves playing video games. But it has evolved into a platform where an active music community has emerged. Tons of monetization capabilities are built right into Twitch.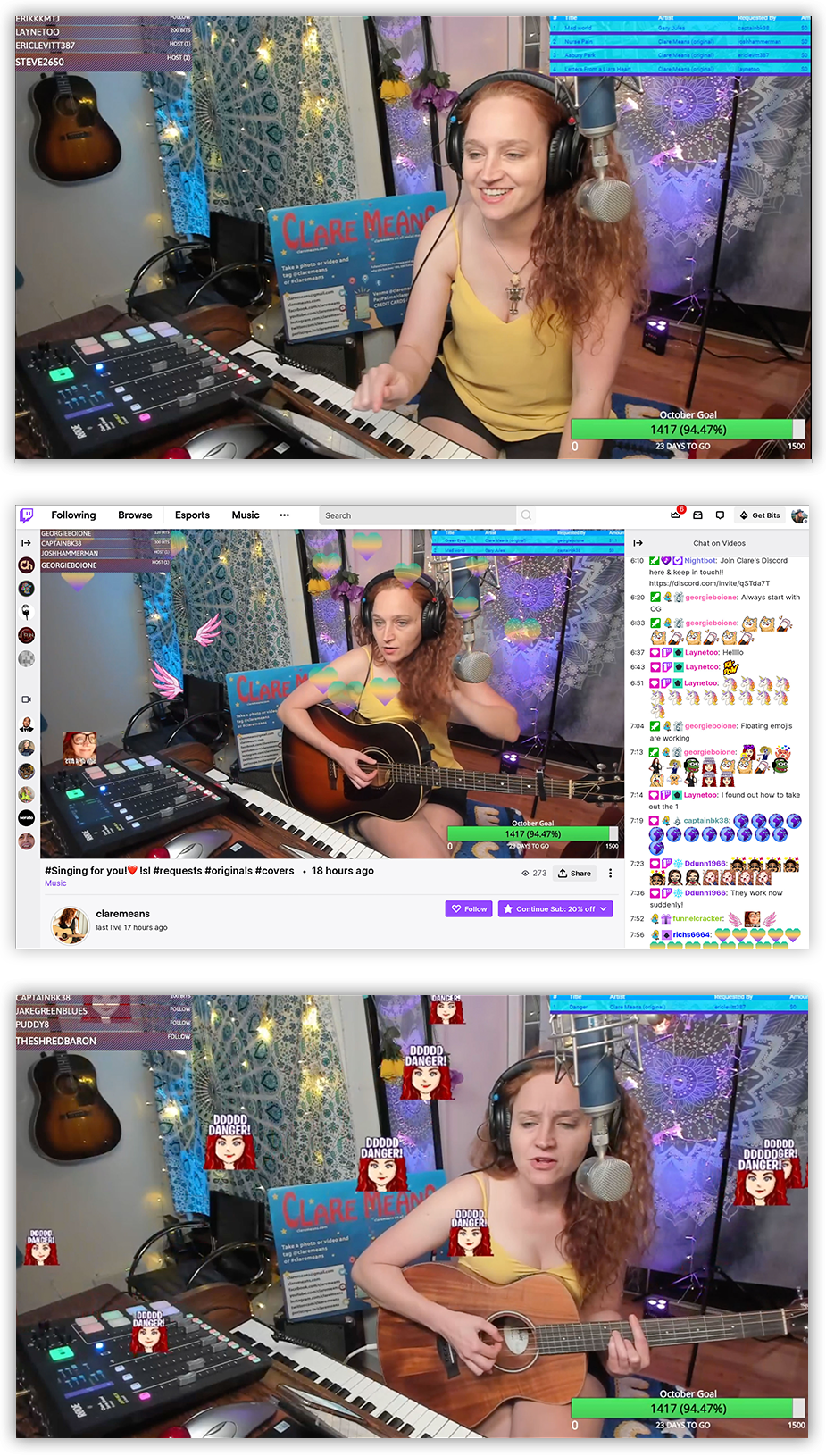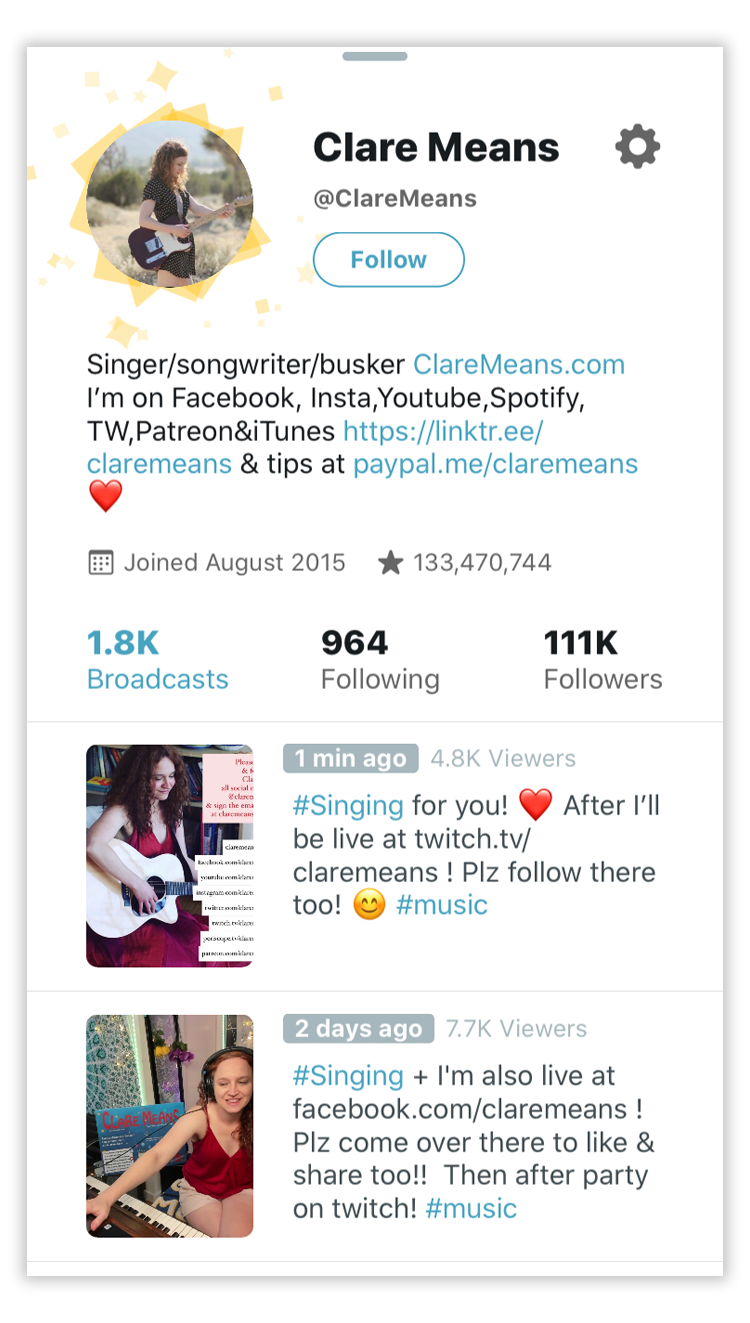 One of the first livestreaming platforms out there
Periscope (owned and operated by Twitter) launched in 2015. It's definitely one of the smaller platforms of the bunch, but the community is die hard. And because it's not as popular as Twitch, Facebook or Instagram, the competition for viewers is much smaller. The built-in monetization capabilities are also very fun and can be very lucrative.
Ever since Facebook launched Live in 2016, it has been widely used by EVERYONE
(and their moms - literally). But it remains to be a great place to engage (and grow) your fanbase. Although there's not built-in monetization capabilities, many musicians have found ways to earn quite a bit livestreaming on Facebook by following a very specific system.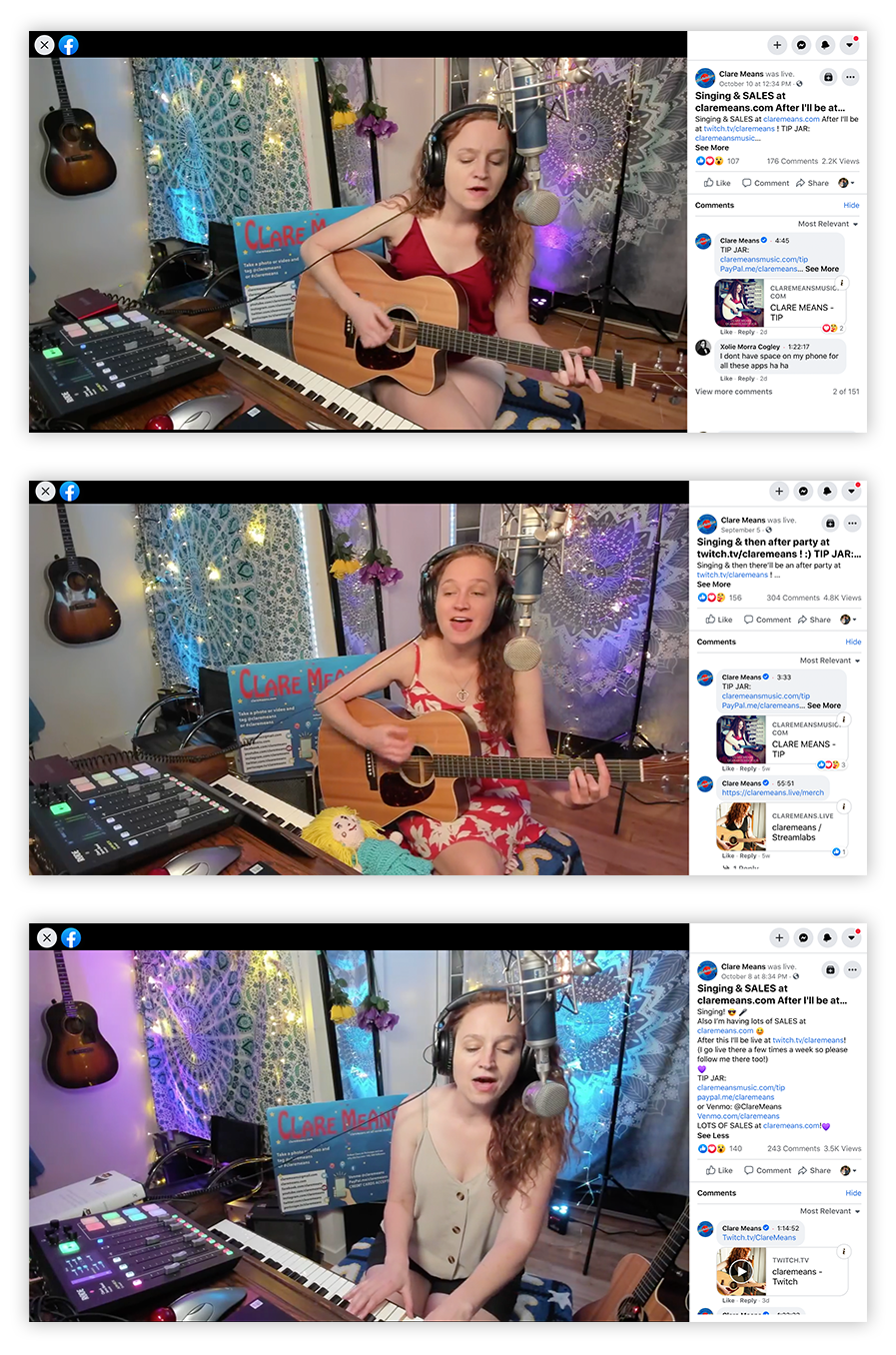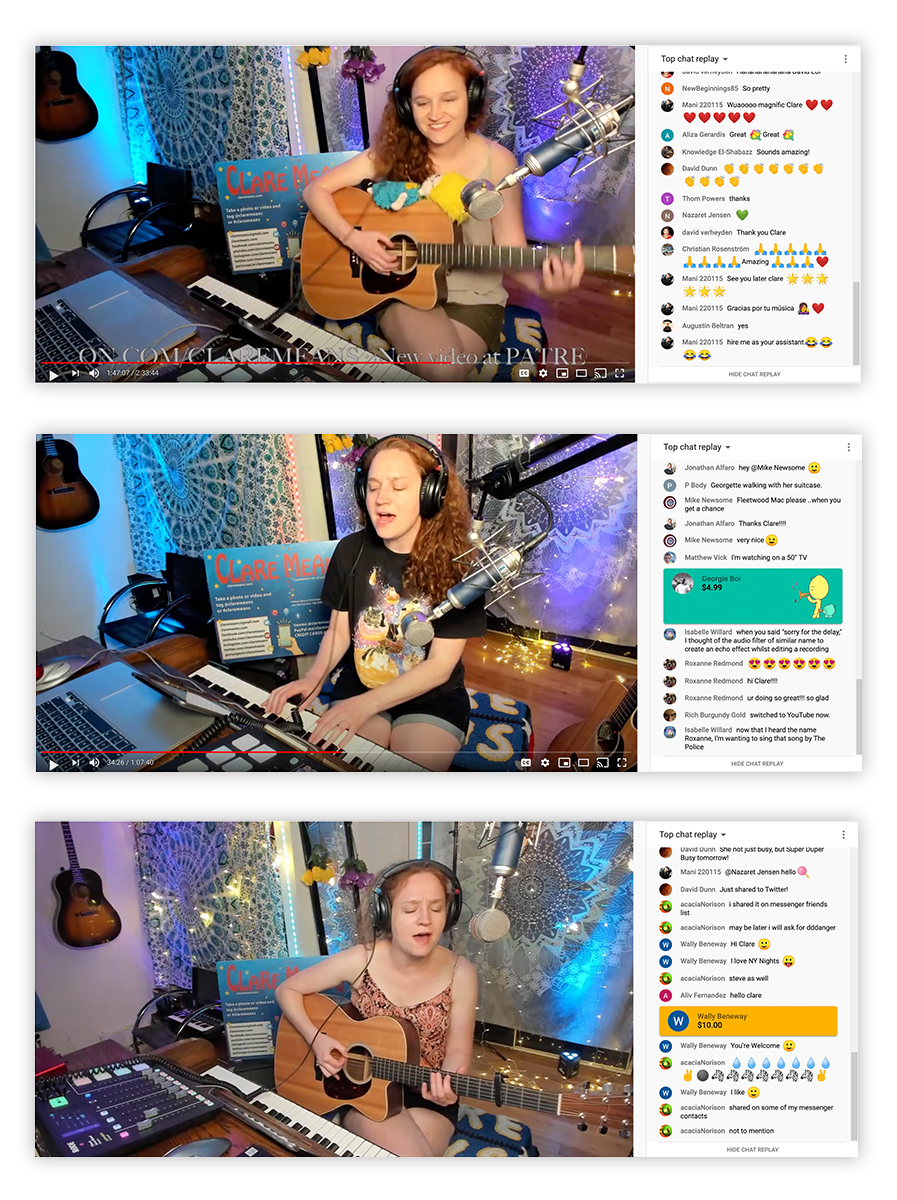 Did you know YouTube has a live feature?
Well, it does WITH on-platform tipping. If you have subscribers on YouTube, you don't want to neglect them. This is a great way to engage your YouTube fans (and earn from them). 
Of course Instagram has become the musician's default social platform
It's the new calling card. If you've built up your audience on Instagram, you need to engage them. But don't devalue your worth by going live all the time in the WRONG way. We see it unfortunately far too often.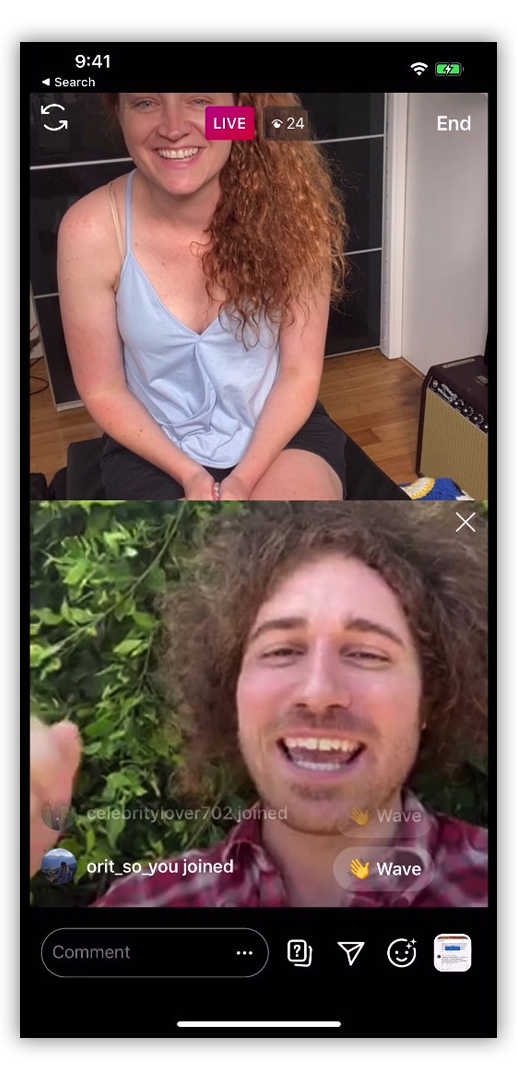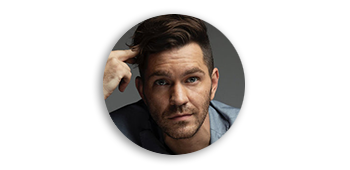 ANDY GRAMMER
There is a great divide between what the young musician thinks being a rock star is and what actually working as a musician entails. Ari fills in the blanks with his light hearted yet blunt demeanor.He's the informed older brother most of us never got in this crazy, confusing industry.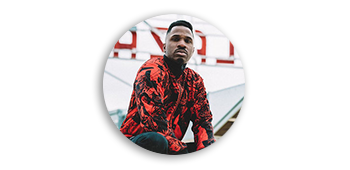 GOSPEL LEE
Wisdom is priceless & Ari has a lot of wisdom. I made a small investment, but now I'm looking at being able to make several times that. It was absolutely worth every penny. The greatest investment you can ever make is in yourself. Nobody is going to invest in your career more than you.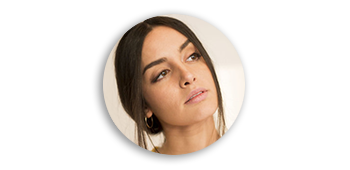 ANDRIA PIPERNI
To have someone who is so experienced, knowledgeable and well-connected in the industry share such detailed information and insight (from big-picture to nitty-gritty), and be so present (showing up sometimes for hours at a time to chat online!) was truly an invaluable experience. I am still constantly referring back to notes I made throughout the course and finding helpful answers!
CASEY WICKSTROM
This course was a total game changer. It opened up doors that I never knew existed, and gave me so many tools to improve my music as a business. I put my trust (and money) in Ari Herstand when I signed up, and I'm so damn glad that I did.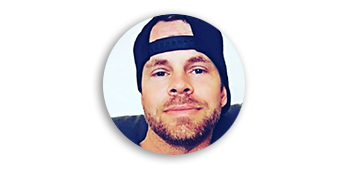 MENICE NEW ERA
I went to Full Sail, and Ari's Take Academy got me further ahead in one day than two years there.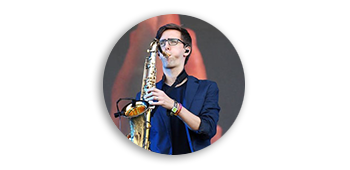 STEVE DAVITT
(Touring Member of Marian Hill)
Ari's Take Academy is astounding! Ari brings so much practical knowledge about how the music industry actually works today, it'll probably make your head spin. But once it's back on straight, you'll start taking bits of his advice and seeing real results with your music.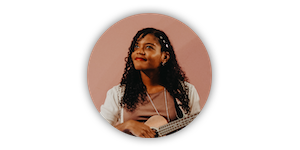 YANIZA
Never did I expect to get SIX offers from top booking agencies. Words will never express how thankful I am for your guidance.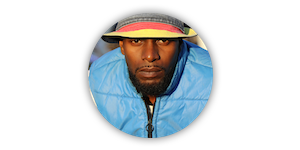 NITE OWL
There is absolutely nothing out there like this. The best money you will ever spend.
The new followers I gained have been commenting and messaging and tagging me, so I know they're going to be easy to convert into lifelong fans over time.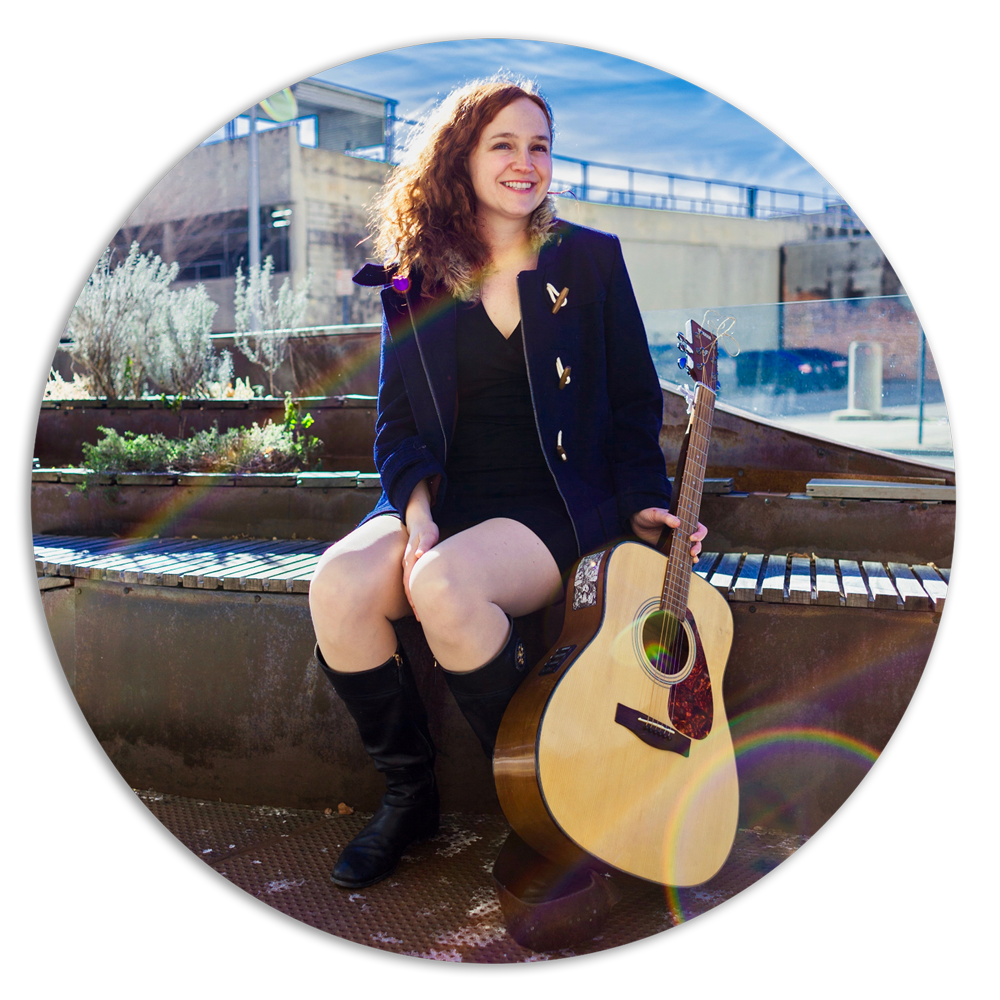 Clare Means
Clare Means' latest album, Sidewalk Astronomy, debuted at #1 on the iTunes Singer/Songwriter charts. She has been featured in Billboard, No Depression, Pitchfork, American Songwriter, among other prominent publications.
Making a name for herself as one of Los Angeles' most popular street performers, she built a dedicated following by being one of very few to play almost exclusively original music. In 2015 Clare began live streaming her performances on Periscope and is now one of Periscope's most watched musicians with more than 100,000 followers on the app.
Since the COVID-19 pandemic Clare has also started multi-streaming to many platforms and can be seen performing live on Periscope, Twitch, Facebook, YouTube, and Instagram. 
Clare Means is the #1 Musician on Periscope.
And since the live music industry shut down in March of 2020, she began mutlistreaming on other livestreaming platforms and has grown exponentially.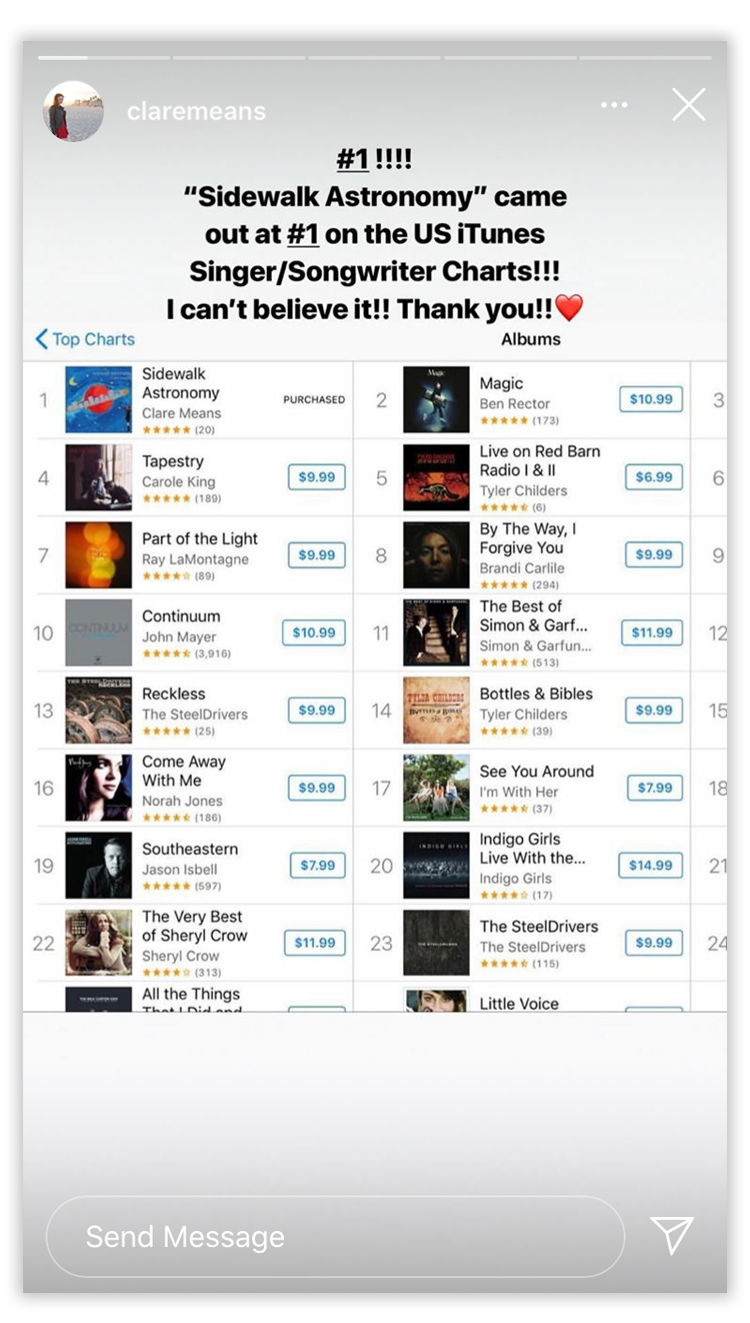 She leveraged her online fanbase to hit #1 on iTunes
She is now a livestreaming expert and can help you along your journey - every step of the way. 
We have put together a comprehensive course
to help you not just put together great looking livestreams, but also: 
Effectively Use all the In-Platform Capabilities


Become a Member of the Communities


Build a Fanbase


&


Make Money
Frequently Asked Questions
When does this course start and finish?
The course starts as soon as you enroll and finishes when (if) you want. As long as you work in music, these strategies will be effective. We will continue to update the lessons and trainings to make sure that it stays relevant, up-to-date and valuable. And you can continue to ask questions, network and collaborate in the private members only Facebook Group. This course is completely self paced.
How long will I have access to this course?
You will have access to this course until *at least* October 2021.
Do you have a refund policy?
There are no refunds with this course. These strategies are proven and will work if implemented properly and the quality of your content is competitive. Once you gain access to the course, you will get all of the lessons at once. It won't take long to get through and implement. If this doesn't work for you it will simply because you did not put in the work to make this work. We are here to help you, however. Join us in the Facebook Group to ask whatever questions you have and we will help you through this and make sure this works for you.
How can I justify the price?
We know that other educational offerings often charge much more for something like this (often taught by people who are not actively working in the field or have any connections to the industry), but we wanted to make sure we kept this affordable enough for artists, producers and managers. You will be getting 10x the value for this cost. We settled on a price that is high enough to weed out the people who are not serious, but affordable enough for artists, producers and managers who are willing to invest in themselves. We are only interested in having professionals join us. This is an investment in your career. You will be saving years of making mistakes and learning through trial and error. This is a career accelerator.
What is required to do this course?
Internet with an upload speed of at least 5mbps and a mobile device. We recommend having a computer, audio interface, a webcam, and a quality microphone.
Does it matter if I have only 1 song released? How about albums from years ago?
It does not matter whether you have 1 song that was released last week or 5 albums released 10 years ago. Music lovers want to find good music. They don't care how new or fresh it is, if it's amazing.
Will this work for me?
We have no idea. It may. It may not. We are teaching you strategies that have worked extremely well for Clare over the last 6 years. Our strategies teach you how to grow your fanbase online, learn the ins and outs of the livestreaming platforms, and also how to multi-stream.
I have more questions. How do I get in touch?
Email us: [email protected]
DISCLAIMER


BY ENROLLING IN THIS COURSE YOU ARE GAINING FULL ACCESS TO THIS COURSE MATERIAL FOR AS LONG AS WE KEEP IT AVAILABLE (AT LEAST UNTIL OCTOBER 2021). YOU CAN EITHER PAY A LUMP SUM UP FRONT OR YOU CAN DO THE PAYMENT PLAN. IF YOU OPT FOR THE INSTALLMENT PLAN, 
YOU ARE COMMITTING TO PAYING OFF YOUR BALANCE
. IT IS NOT A MONTHLY MEMBERSHIP FEE. THERE IS NO "CANCELLATION."